VitaminC  Sleep Mask For Glowing Skin
Pal, there is a reason we call night sleep "beauty sleep".
Imagine waking up to a picture-perfect face with no breakout, no dark circles, dimmed freckles, well-treated tan, repaired blemishes, exfoliated, and detoxified skin!
Sounds too good to be true? But, what if you can relish all these with a slight change at the comfort of your home and no more paying costly visits to salons or cosmetic clinics.
Yes, bright and radiant skin is no more just a dream. Thanks to the graciously developed VitaminC  Sleep Mask For Glowing Skin loaded with the right ingredients to boost radiance on the skin.
So, what are Sleep Masks?
A simple and easy step of your nighttime skincare routine that is applied onto the skin, and worn overnight. Some might find sleeping masks similar to moisturizers and gel, but they are much more than that.
Sleeping masks are designed to be lightweight, hydrating, and nourishing. These sleep glow masks are a luxury for your skin, it responsibly hydrates and nourishes the skin.
Since the popularity of sleep glow masks, the beauty shelves are filled with numerous options for you to choose from- thus increasing the confusion. We have enlisted one of the best sleep glow masks for you but first, let's learn more about sleep glow masks!
If you have time to snooze, you have time to mask!
So, when you fall asleep, your body falls into the recovery mode from survival mode. On average, a person starts falling asleep by 9 and so does your skin start going down. And, over the next few hours, your skin will be already prepped up to absorb the topicals you have for it.
If you are looking to enhance the benefits of your skincare routine, then prefer a sleeping mask or an overnight mask. Your skin is warmer, and more permeable during nighttime. Thus, it is the prime time to introduce antioxidants, nutrients, or have hydration treatments to your skin. It is ready to absorb anything you have to throw at it, so be cautious!
Here is a caveat- skin loses moisture in the nighttime. And, the simplest way to curb this downside aspect of the skin is using a sleep glow mask. They are effective in increasing the skin's permeability and provide intense hydration and nourishment to the skin. But, also creates a nice protecting layer to keep the dirt and bacteria out from clogging the pores.
What do Sleep Glow Masks do?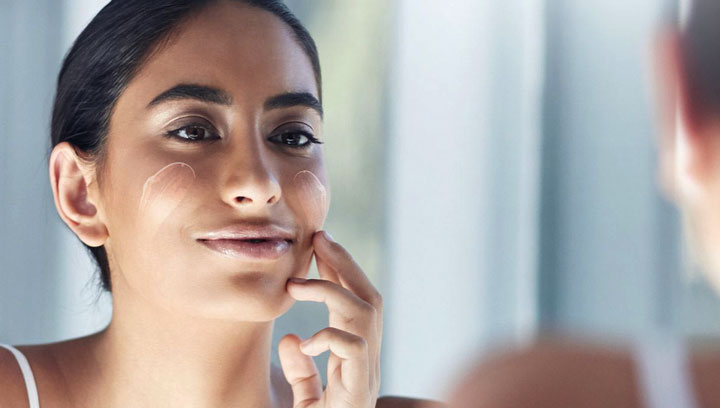 Simply stating, these sleep masks are more about moisture and hydration to the skin. Besides all the skincare products you use to address your skincare issues, this mask is an additional love for your skin. It forms the layer on the skin post-application and locks in the moisture as well as the natural ingredients providing more hydration to the skin besides nourishing it.
Whether you have oily skin or sensitive skin- this mask is still perfect for you. Why? Because considering its usage in the nighttime, the mask has loads of nature-origin ingredients rather than loads of chemicals. So, your skin is embraced by the natural ingredients and thus relishes all the time you are asleep.
Another benefit is the protection from impurities. The sleep mask is designed to absorb into the skin and still form a layer on the skin to block the dirt.
Last but not the least, it offers cell regeneration. That means, while you are sound asleep dreaming, the mask helps in skin renewal, revitalizing it, and aid in growing the new and healthy skin cells while eliminating the damaged ones.
Sleep masks work all the time you sleep to give your skin a natural bounciness, and softness the next morning.
Tips for using Sleep Mask
For step one, remember that a sleep mask should be in your weekly routine instead of your daily routine! Depending upon your skin type and the active ingredients you prefer, you can use it once or twice every week.
Chosen mask for exfoliation? Prefer it once a week! Have a sleep mask for hydration or anti-aging benefits? Two or three times a week is good to go!
Remember, you have to follow what your skincare professional says or what particular instructions the sleep mask comes with.
Cleanse your face (double cleanse if you had makeup on). Apply a toner and gently pat on your skin and let it absorb. Lastly, apply a generous layer on your face, neck, and décolleté. Sit for a few minutes and let the mask absorb in your skin.
Voila, you are all ready to hit the sack!
Sleep Glow Mask That You'd Love!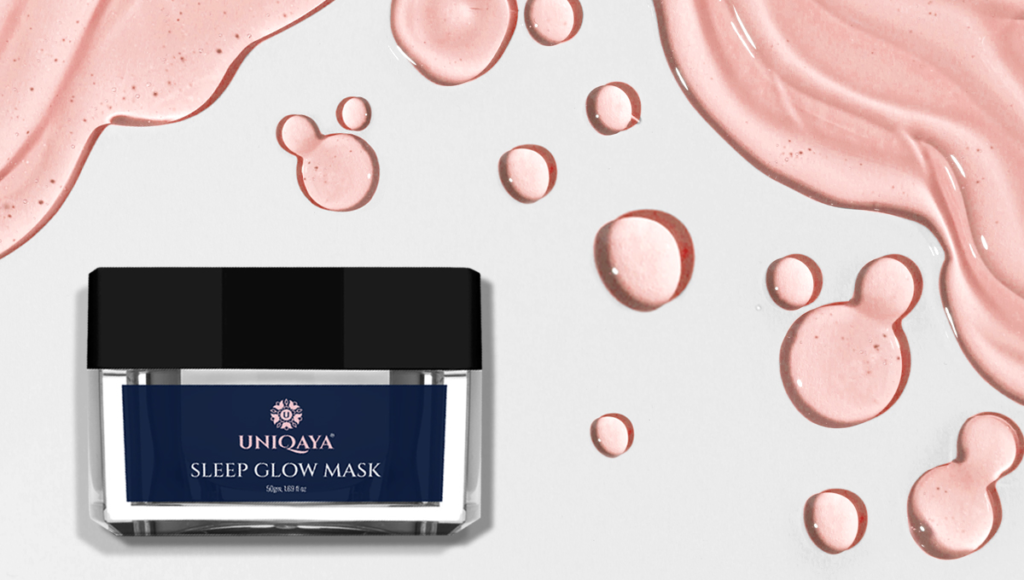 Flooded with ample options, choosing the right one becomes harder. So, here is a simple giveaway- go for Uniqaya Vitamin C  Sleep Mask For Glowing Skin. it is packed with vitamin C from Kakadu Plum and watermelon. They together cleanse pores, gently slough away the dead skin cells, boost cell regeneration, provide hydration, increase luminosity and brighten skin.
With Baobab oil infused in the mask, your skin experiences improved texture, elasticity, and cell restoration process. Other ingredients like horse chestnut and licorice extract help in soothing and calming the skin.
The goodness of the sleep mask is well shown by the natural ingredients and the toxic-free formulation. The mask is free from sulfates, parabens, phthalates, and is non-comedogenic. Further, it not only cares about your skin but also about those cute living animals as they are proudly cruelty-free.
So, what's the wait for? Add your Overnight Sleep Glow Mask and have a dewy and glowing face all day long.