Men and women alike suffer from hair loss, and when it comes to identifying the causes and treatment options, people tend to have many questions.  Luckily, many quality clinical options to treat hair loss have branched into the international stage.  One of the most renowned hair transplant clinics located in one of the top medical tourism destinations is the Dr. Serkan Aygin Clinic in Istanbul, Turkey.
Introduction to Dr. Serkan Aygin Clinic and its Services
The Dr. Serkan Aygin Clinic provides high-quality, comforting care at a much lower price than you would find in the United States, Western Europe, or certain developed Asian countries.  Dr. Aygin has over 25 years of experience in the field of hair transplantation, is a member of the International Society of Dermatology, and was honored as Europe's Best Hair Transplant Surgeon in 2019.
Dr. Aygin remains dedicated to continuing innovations and developments in his field, and he has treated more than 10,000 patients with a remarkable 98 percent hair growth rate.Dr. Aygin and his staff will walk you through each step of the process from the initial assessment to the regrowth phase.
The initial consultation is free with no obligation and can be done remotely utilizing photos of your hair and loss pattern to estimate the number of follicles that are needed and available for transplant.  During the consultation, Dr. Aygin needs to assess and diagnose the cause of the specific type of hair loss as well as the pattern and severity of the hair loss condition.
This also allows Dr. Aygin to see how much donor hair the patient has available, the quality of the donor hair, and the size of the balding area or areas.  Also, even though hair transplant surgery is considered a minimally invasive surgery, being in the best possible heath is important as there are some risks involved. Dr. Aygin also makes sure to discuss realistic expectations with each patient as post-surgery treatments may be necessary to maintain certain results.
Causes of Hair Loss and the Importance of a Diagnosis
There are many possible causes of loss.  Hereditary conditions of male and female-pattern baldness are the most common and usually occur in a predictable pattern with aging.  A hormonal imbalance can affect hair loss especially if you have a genetic predisposition to follicle sensitivity.  Hair loss can also be a side effect of certain prescription drugs.In addition, hair loss can be attributed to many other conditions such as iron deficiency, thyroid imbalance, vitamin B12 deficiency, dramatic weight loss, and stress.
Hair Transplantation Techniques offered at the Dr. Serkan Aygin Clinic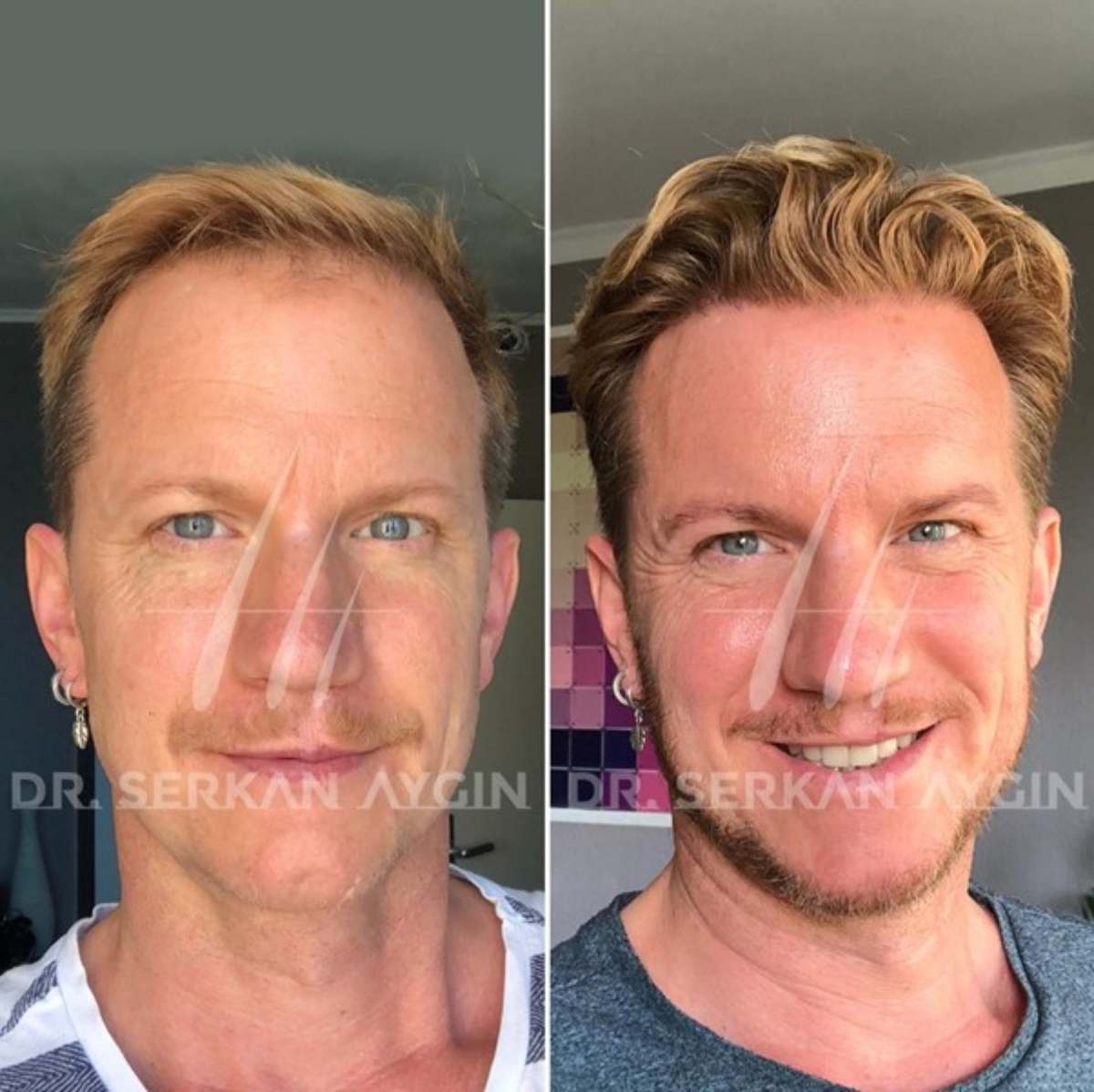 There are two main procedures currently used for efficient hair transplantation surgery:  follicular unit extraction (FUE) and direct hair implantation (DHI).  Dr. Aygin explains, "The DHI method uses a pen-like medical instrument called a 'Choi implanter' that creates the recipient sites and simultaneously transplants the grafts.
However, in the FUE method, the recipient sites are created first, then later the donor  is transplanted into these areas."  The DHI method has a faster recovery period and typically results in less bleeding than the FUE method. DHI is more ideal when you want to achieve higher density, while FUE is optimal for covering large areas of loss.  Dr. Aygin also uses the innovative Sapphire FUE method.  This involves using sapphire blades, which are significantly sharper than steel ones. This allows the surgeon to make smaller incisions, which allows for more channels to be created.
This can result in more natural-looking and denser hair growth with less risk of bleeding.  The Sapphire FUE method can also result in a faster, cleaner healing process minimizing scarring and infection.
Patient-Centered Care: A Focus on Comfort and Ethics at the Dr. Serkan Aygin Clinic
The Dr. Serkan Aygin Clinic also offers a Soft FUE method, which involves the patient being sedated during the procedure.  It allows the patient to be aware but feel no pain during the process as well as recover more quickly. The Dr. Serkan Aygin Clinic pride's itself on taking the time to focus not only on the technical aspects, but also on the human aspects of every procedure. Patients are treated honestly and ethically with their well-being and comfort maintained as a top priority.