Staying organized is not an easy thing to do and the main reason behind disorganization is an accumulation of clutter. A home is usually filled with lots of useful items which can be repurposed and can keep you well organized. When moving a house, you need to ensure that your move size is compact. In fact, in a moving checklist available at https://www.imoving.com/moving-checklist/, you would find a limited number of items that you must move for a safe and east relocation.
Even if you are living in the same home, you will feel the need for decluttering sometime or other. No matter what is the size of your home, at a certain point in life, you will feel less in space and this is because of the cluttering of the stuff. Decluttering of the items is always an ideal option to stay systematic and it also makes your home look cleaner and more organized without putting in much effort. If you are looking for some cheap tips then have a look at these:
The Idea to keep your Purses, Keys, and Wallet
You should have an idea of keeping all such things well organized if you want your home to look well organized. Make sure you always put it there. Want something that also looks good? You can create an entryway hall tree bench. And then you should always leave your purses and keys there only to ensure optimum space.
Have a Separate Basket for Miscellaneous Items
Usually, all people have a corner and a chair present at their homes to keep miscellaneous items but this does not look organized having several items present on a chair. If you have a separate basket for these items so that you can easily toss your things there. On regular basis, you can toss items into it but when it reaches the top then it is time to put everything at its place so that you can toss more from tomorrow and can make your living easier.
Prepare a Cardboard Organizer
You can create DIY dividers for your drawers and storage bins by cutting up cardboard boxes. If you don't have enough time then you can buy these dividers from stores but if you create them by yourself then you can customize these according to your needs and style. After creating dividers by using cardboard then you should cover them by personalizing them.
Pockets for Papers
There is no home where there are no papers. And if the papers and documents are present here and there then it makes a place look messy. So, it is better to have binder pockets to keep all the papers safe and organized manner. If these are kitchen booklets and papers like favorite recipe books, printable references sheets, guarantee cards of several kitchen appliances, grocery coupon codes, or anything related to the kitchen then have a pocket in the kitchen for these papers. Just tape of pocket containing all the papers inside any cabinet so that they can keep hidden and also you can access these whenever there is a necessity.
Toss out all your Old Clothing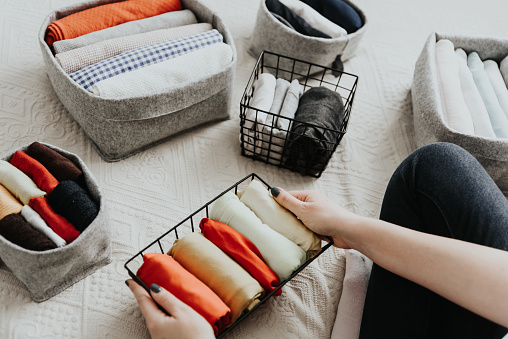 If you possess some clothing items which you have not used for the last two years then it is time to toss these all away. When you will less to organize then it becomes easier to keep everything accessible and more systematic.
Hang a Wire in a Laundry Room
In your laundry room, there should be a wire between two nails should be present. This wire helps hang all kinds of clothing such as socks, hats, and so on. You can hand wet clothing items on it so that they get dry after a certain period and you can use these. This wire is going to make things easier and efficient for you.
Think Vertical for Shelves
There are certain items present in the kitchens such as cutting boards, baking pans and so on which are best to keep upright so that you can access these with ease, and also they will look appealing to the homeowner.
Use Chalkboard Labels in the Kitchen
To make the kitchen containers reusable with ease, you should use chalkboard labels instead of printable labels. This helps you to change what is present inside the jars with ease and you can easily change the label as well.
Make a Dedicated Work Closet
Because of the corona pandemic, things have changed now in a large way. People are working remotely from their homes, therefore, there is a lot of office stuff present in the homes. Having a dedicated space just for the work supplies is a great idea to keep everything in the right order. You should also have a dedicated wardrobe that contains a mix of sleek boxes which will help you store all the things from stationery items to important papers and so on. When your workspace is more organized then it helps you to enjoy your working time too.
Use Shelf Risers if Present
If there is an open of shelf risers present in your cabinets, closets, or even in your fridge then it is time to use it so that it can serve you as additional spaces to top up the items one after the another. This helps you to store more items in that particular cabinet.
Bottom Line
Use all these tips to make your home cleaner and organized at cost-affordable rates.