If you have a high school formal coming up—or even if it's not for months—you're no doubt collating your Pinterest board for #Pinspo. With so many options on the horizon in 2022, it can be challenging to choose that one perfect dress.
If we were to give one piece of advice, it would be to go long. For formal dress codes, maxi cuts are your best bet—midi at the shortest. Mini skirts are fun and all, but due to their shorter length, 'fun' can come at the expense of 'formal'. (We will give minis this, though: they are a lot easier to dance in.)
So, if you're after some formal dress inspo, prepare to have your horizons—and your Pinterest board—expanded. Here are our hottest formal dress recommendations for your high school formal.
The Claudia Gown in Navy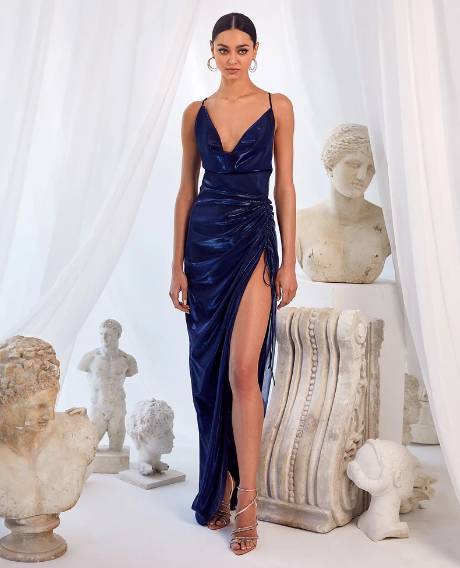 Image: Alamour The Label
In many ways, the Claudia Gown is quintessential formal attire. Maxi length: check. Darker colour*: check. Shiny, iridescent fabric: check! (*This isn't to say that a formal dress must be dark. Rather, this is to say that a lot of them are and that this gown is close to a classic representation of formal attire.)
We don't know if it's the cowl neckline or the way it hugs yet flows along your feminine silhouette, but this gown makes us giddy. Add some statement heels and a pair of Alani Gold Diamonte Hoop Earrings and you've got yourself an ultra-feminine formal outfit.
The Aurora Gown in dusty blue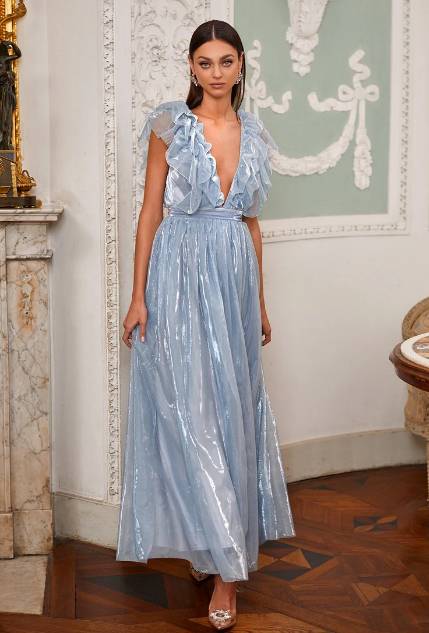 Image: Alamour The Label
Speaking of blue, doesn't the aptly named Aurora Gown just give you Princess Aurora vibes? Its baby blue hue and shimmery mesh fabric look almost magic—it's simply the stuff of fairy tales! Ruffled from back to front, this is the most innocent plunging neckline you will ever wear. Finished with a sweet little bow at the back, this many-layered marvel is the gift that just keeps glittering. Set foot into the palace—or, at least, the venue of your high school formal—and capture everyone's eye with some Aurora sparkle. This is a princess gown if we ever saw one!
The Miriam Gown in rust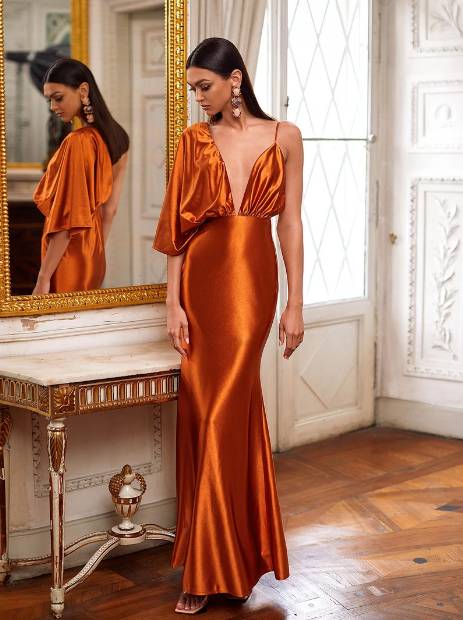 Image: Alamour The Label
If our first two recommendations made you squee, "ooh, shiny," then you will love what's coming next. Mirror, mirror, on the wall; who's the shiniest of all? Why, it's you! So long as you're wearing the Miriam Gown, that is.
Crafted from one of our favourite fabrics, the Miriam Gown is the most elegant defiance of symmetry that we have ever seen. And, hey—if you can't choose between spaghetti straps and flowing sleeves, this gown is the ultimate compromise. One thing it won't relent on is its form-fitting yet flowing maxi skirt. Turn heads at your high school formal with this somewhat unconventional twist on a classic cut.
The Medea Gown in black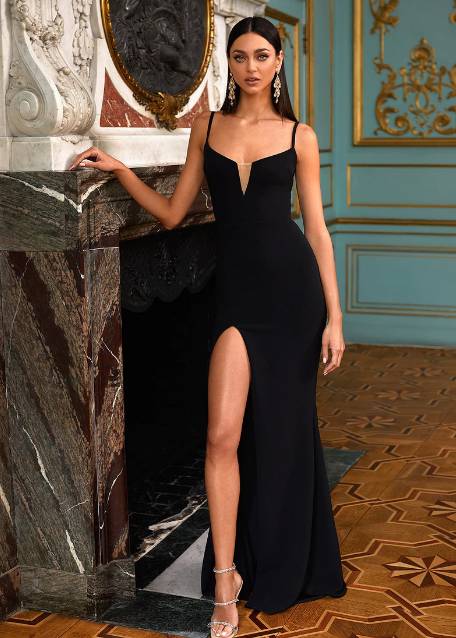 Image: Alamour The Label
Maybe you want to shed the sparkles in favour of something simple. We hear that too! Sometimes a straight cut does all the talking of voluminous frills. And sometimes a neutral tone is all you need—case in point.
The Medea Gown, unlike its presumed namesake of the ancient Greek character, masters the power of the understatement. Black is a classic shade of formal dress and you will fit fabulously in with this minimalist maxi. We love its low V-neckline, and the nude mesh insert provides the coverage you'll need for a school environment. Offset this insert with Laila Nude Heels, and finish this whole look with a pair of Amber Gold Crystal Drop Earrings.
The Alma Gown in white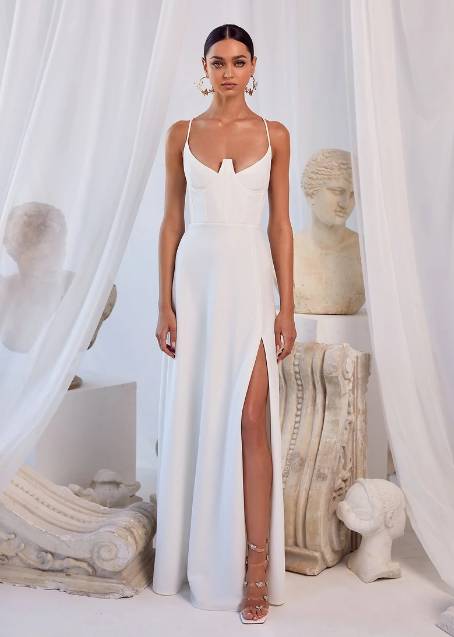 Image: Alamour The Label
Conversely, maybe you prefer neutrals up the other end of the colour spectrum. We've got you covered there, too! The Alma Gown uses structure and an A-line cut to achieve utmost elegance. This evening gown speaks through its shape, its crepe fabric so pure and white that it takes on an angelic quality. If you want to make a pristine, serene entrance to your high school formal, give the Alma Gown a go. The great thing about white is that you can pair it with almost any other colour you like!
How's that for some #Pinspo?
Hopefully, this sample has got you going and the glamorous ideas flowing! There isn't really a wrong way to wear a trendy formal dress. Just so long as it's a) not a mini cut, b) suitable for your requirements—i.e. if you intend to hit the D-floor, perhaps stay away from the longer mermaid cuts—and c) making you feel like the queen you are, then you'll be good to go.
Sometimes confidence is the final accessory. If you were to enter the room in any one of these numbers, your confidence may just get you over the line for Best Dressed in your year level. Are you as excited as we are? Let's soak up this elegant event that comes only a few times in a lifetime. To the sacred ritual of the high school formal!