Wedding dress shopping is one of the most exciting things to do after getting engaged, but it's usual for newlyweds to feel a bit overwhelmed by the process. Since made-to-order wedding gowns normally take six to nine months to be ready, it's best to visit the bridal boutique as early as possible. This article will help you know the best time of the year to buy a wedding dress and how early in advance you should go shopping.
When Is the Best Time of the Year to Buy a Wedding Dress?
When to purchase a wedding gown is contingent on the date of your wedding, as you will need time for adjustments and fittings. However, many women are on a spending limit and want to determine what the best period of the year to buy wedding gowns is. Deals, new fashion trends, seasonal prices, and other variables may differ.
Wedding industry professionals generally consent that January is the ideal month to buy a wedding gown, as it may coincide with your wedding date. Fall and summer wedding seasons are particularly popular. For summer brides, January is crunch time for wedding dress shopping because your wedding is still six months away. For October brides, January is a great time to start shopping. and you could discover some great offers.
January is a also suitable month for newly engaged couples because many of them get engaged around the holidays. January is equally a popular month for designers to announce new collections and offer discounts on previous collections. There are a lot of new products to pick from in January, which means sample deals and discounts are plentiful.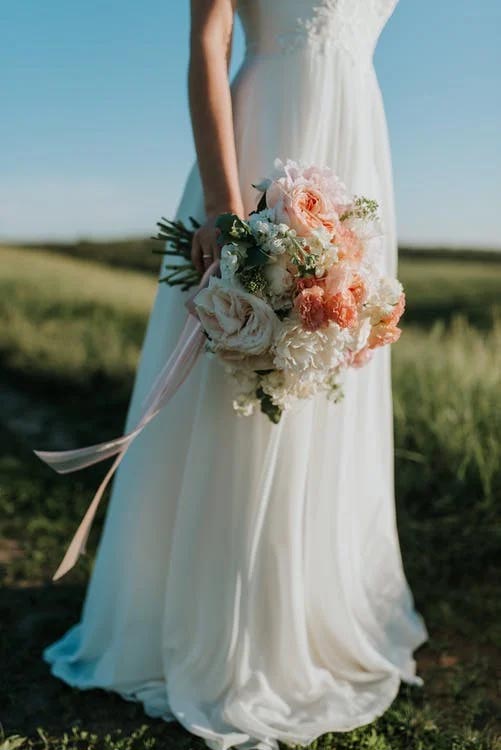 How Early in Advance Should You Buy Your Wedding Gown?
A reasonable general rule for when to buy your wedding gown is six to 12 months before the wedding. Allow plenty of time between choosing a gown and the wedding day. Shopping for a wedding gown is fun, but it can be nerve-wracking if you are strapped for time. Your shopping schedule should accommodate for the time required to find the perfect outfit, including the time it will take to make an order and have any necessary changes completed in time for the wedding.
However, not every bride has as much flexibility; depending on the circumstances, some may want their dresses in as little as a week. There are several options for purchasing or renting a wedding dress weeks before your wedding.
Many companies provide numerous wedding dress selections that may be supplied to your home within a few weeks. This is an excellent alternative for brides who don't have the luxury of waiting for a bespoke gown. You might be able to quickly order a dress, which could take up to two months. You can check out Dainty Jewells to get some of the most modest wedding dresses.
On the other hand, you don't want to buy your gown too soon. It may be intriguing to go wedding dress shopping sooner if you have an extended engagement. Purchasing a wedding gown too soon might result in buyer's remorse.
Endnote
Setting a budget for your wedding, particularly for your clothing, is extremely critical. Determine if you want a personalized wedding gown or whether you want to cut on costs by purchasing something during a sale. Consider additional costs such as modification costs and accessories such as jewelry, a veil, and shoes. Whatever you decide, these factors should be considered when shopping for your perfect wedding dress.